About the Show:
Make your life an "Adventure in Health" not in sickness and disease!
Join Dr. David Kolbaba, Board Certified Natural Healthcare Practitioner and Clinical Nutritionist as he explores varied health-related topics aimed at inspiring, educating, and motivating his listeners. Call in: HealthQuest Radio Hotline: 1-800-794-1855.
Tune in every Saturday at 11am – 12pm on AM560 The Answer.

CONTACT INFORMATION: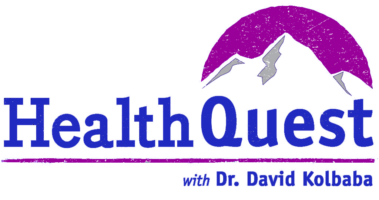 HealthQuest Radio

1065 Dundee Avenue
East Dundee, IL 60118
847-428-8850
www.HealthQuestRadio.com
Recent Episodes:
Simple Truths
In this Christmas-themed show, Dr. David Kolbaba shares simple steps to move yourself to higher health. An inspirational testimony and thoughts on living a purposeful life are highlights of the show.
Click here to listen to this episode.
Better Balance…Have You Reached That Tipping Point?
Join Dr. David Kolbaba for an interview with Martie
Whittiken
, certified clinical nutritionist and author, to discuss digestive issues and probiotics; natural alternatives to acid-blocking drugs. Essential Formulas, Dr. Ohhira's Probiotics are available at Vitamin Shoppe, Whole Foods, Sprouts
and
other fine health food stores nationwide. They can also be found at Amazon.com. Learn more at [...]
Click here to listen to this episode.
Menopause Has Options
Dr. David Kolbaba welcomes Adam Banning and Malvina Weiss from Metagenics to discuss women's health and natural,
low risk
approaches to controlling menopausal symptoms and the research behind a botanical extract for hot flash relief and more.
Click here to listen to this episode.