Steve Cortes is on Special Assignment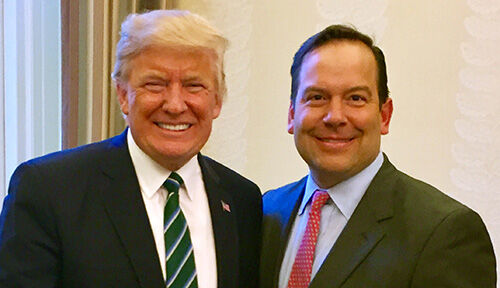 AM 560 The Answer announced today that afternoon drive host Steve Cortes will be temporarily stepping away from his daily radio talk show to join President Trump's re-election campaign in the role of Senior Advisor of Communications.
"While we wish Steve could stay on the air with us during these next few critical months before the election, we also understand the pull that Steve feels to help President Trump," said Jeff Reisman, regional vice president and general manager of AM 560. "Steve will have a front row seat to history between now and the election, and we look forward to welcoming him back in November and having him share his firsthand account of how this campaign unfolded with our audience."
Cortes is expected to rejoin the station in early November, following the presidential election. In the interim, AM 560's afternoon drive will feature a fill-in host to be announced.
Cortes joined AM 560 The Answer in January of this year as the host of "The Steve Cortes Show," heard weekday afternoons from 5 to 7pm. Cortes has been a frequent political and financial contributor to CNBC, FOX Business, FOX News, and CNN. In addition, his columns have regularly appeared in RealClearPolitics and Human Events. Cortes is also the author of Against the Herd: 6 Contrarian Investment Strategies You Should Follow. Cortes worked on President Trump's 2106 campaign as member of Trump's Hispanic Advisory Council. Cortes regularly appeared on television and at rallies in support of the Trump campaign. Cortes is a native of Chicago. He is a graduate of Georgetown University where he was nominated for the Rhodes Scholarship.