Stand With Israel 2020 Tour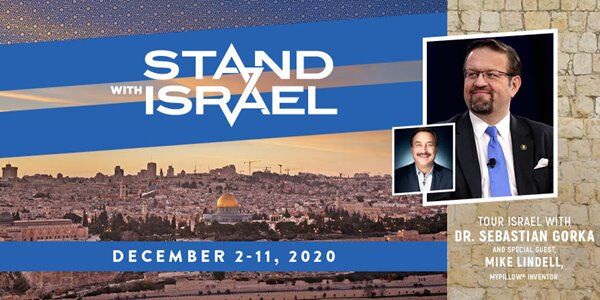 Find out more!
It is time to Stand with Israel!
SPECIAL NOTE: Book your trip today to join Dr. Sebastian Gorka and Mike Lindell on this incredible adventure this December. What better way to celebrate the lifting of the "stay at home" restrictions than to get out of the country an see Israel! If something happens and you cannot go, we are allowing you to cancel, PENALTY FREE, until August 14, 2020. We look forward to being with you this December.
We have invited our listeners on multiple travel experiences over the years, and this year we are heading back to Israel. Stand with Israel 2020 is the most imaginative and far-reaching tour we have ever offered! On this 10-day journey with Salem Media Group, you will see some of the most important religious and historical sites in the Holy Land. You will come to understand Israel's significance better than ever before and your perspective may never be the same!
You will be traveling with Dr. Sebastian Gorka, one of the most popular radio talk-show hosts in America today. Also, Mike Lindell, inventor of MyPillow®, will be a special guest and speaker on the tour. Along the way, Dr. Gorka will broadcast many of his "America First" radio shows live from Israel while you watch and participate.
Most importantly, this trip will take you to places right out of the pages of religious history and the geo-political landscape of today — the Jezreel Valley, Galilee, the Jordan River Valley, Jerusalem, the Dead Sea and more. Our boat ride on the Sea of Galilee will be a highlight you may never forget!!
Our group will stay in some of the best hotels in Israel. Our carefully selected tour guides will ensure an unforgettable experience full of unique insight into the region. In fact, we fully anticipate that this trip may be the most memorable and exciting vacation you will ever take. If this will be your first time in the Holy Land, you will be amazed at its spiritual and political impact. If you have visited before, you already understand that power, and we have added unique destinations and activities that will amaze you even more as you return.
Our every effort has been executed with one focus: to make this tour the defining Israel experience for you in 2020.